---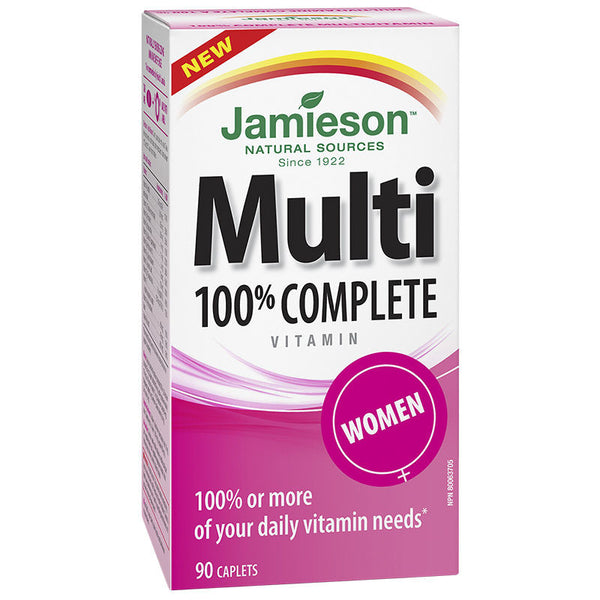 New! Jamieson 100% Complete Multivitamin for Women is the easy way to get 100% of your body's daily vitamin needs. Formulated to Health Canada's recommendation, Jamieson 100% Complete Multivitamin for Women also includes cranberry for urinary tract health, so you can feel confident you are getting 100% or more of the vitamins your body needs each day!
Directions
Adult Women: Take 1 caplet daily with a meal. Take a few hours before or after taking other medications.
Serving Size
1 caplet
VITAMINS
Amount and Percent of Recommended Daily Intake
Vitamin A (Acetate) 300 mcg RAE, 114%
Beta-carotene 1000 mcg 
Vitamin B1 (Thiamine mononitrate) 3.85 mg, 350%
Vitamin B2 (Riboflavin) 3.85 mg, 350%
Vitamin B3 (Nicinamide) 14 mg, 100%
Vitamin B5 (Calcium d-pantothenate) 11 mg, 220%
Vitamin B6 (Pyridoxine HCl) 5 mg, 385%
Vitamin B12 (Cyanocobalamin) 12 mcg, 500%
Vitamin C (Ascorbic acid) 150 mg, 200%
Vitamin D (Cholecalciferol) 20 mcg/800 IU, 400%
Vitamin E (d-alpha tocopheryl acetate) 18.76 mg AT/28 IU, 125%
Vitamin K1 (Phytonadione) 90 mcg, 100%
Biotin 45 mcg, 150%
Folate (Folic acid) 600 mcg, 150%
MINERALS 
Calcium (Carbonate, dicalcium phosphate) 200 mg 
Chromium (Chloride) 25 mcg 
Copper (Sulfate) 900 mcg 
Iodine (Potassium iodide) 150 mcg 
Iron (Ferrous fumarate) 7.5 mg 
Magnesium (Oxide) 64 mg 
Manganese (Sulfate) 5 mg 
Selenium (Sodium selenite) 55 mcg 
Zinc (Oxide) 8 mg
SUPPORTING NUTRIENTS 
Cranberry (Vaccinium macrocarpon, fruit) 10 mg 
Lutein (Tagetes erecta L., flower) 1000 mcg 
Lycopene 600 mcg
Also Contains
Cellulose, vegetable stearic acid, modified cellulose gum, vegetable magnesium stearate, silica, hydroxypropyl cellulose, water-soluble cellulose, titanium dioxide, carmine.
NO salt (NaCl), gluten, lactose or artificial flavours.
Warning
This product contains enough drug (iron) to seriously harm a child. Keep out of reach of children. Consult a health care practitioner prior to use if you are taking blood thinners or if you have a history of kidney stones.