---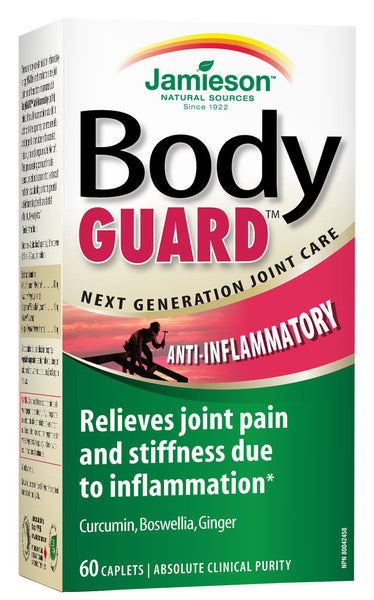 Jamieson Body Guard Anti-Inflammatory benefits those who are looking for relief from joint and osteoarthritis pain caused by inflammation.

Benefits:
Traditionally used in Herbal Medicine as an anti-inflammatory to help relieve joint pain
Traditionally used in Ayurveda to relieve pain and inflammation, and assist healing of minor wounds such as cuts and burns, and minor skin irritations
Helps relieve joint inflammation and associated symptoms such as joint pain when used in conjunction with conventional treatment
Provides antioxidants for the maintenance of good health
Ingredients:
Meriva Curcumin Phytosome 500 mg (Curcuma long L., rhizome / soy lecithin complex)
Boswellia 10 mg (Boswellia serrata, whole plant)
Ginger (Zingiber officinal, rhizome) 10 mg
Directions:

Adults take 2 caplets daily. Store between 15C and 25C, away from children.