---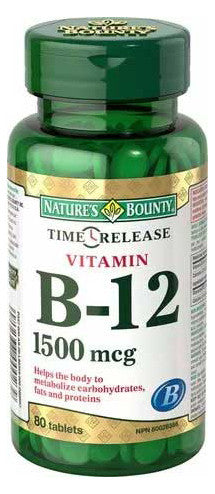 Vitamin B-12 is essential for the maintenance of healthy blood cells and is critically involved in the cellular metabolism of carbohydrates, fats, and proteins. It is essential for the normal formation of blood cells. In addition, the B vitamins play a role in energy metabolism in the body by turning carbohydrates into glucose which is used to generate energy. These Time Release tablets are specifically formulated to provide a gradual release of B Vitamins to provide maximum benefit throughout the day.
Ingredients:
Vitamin B12, Calcium, Calcium phosphate dibasic, hypromellose, magnesium stearate, maltodextrin, mannitol, microcrystalline cellulose, polysorbate 80, silicon dioxide, stearic acid, triacetin.
Directions:
Adults, take one (1) tablet daily a few hours before or after taking other medications.