---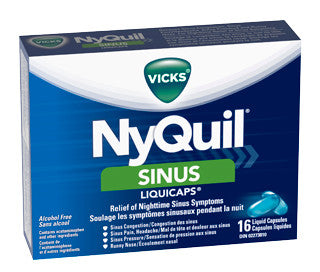 Trust Vicks for safe, effective relief of your cough, cold, and flu symptoms. To ensure the product you choose is right for you, always read and follow the label.
Relieves:
Temporarily relieves common cold and flu symptoms:
Nasal congestion
Sinus congestion
Sinus pain
Sinus headache
Runny Nose
Sneezing
Directions:
Adult use Only
Adults (12 yrs and over): Take 2 LiquiCaps with water at bedtime. If your sinus symptoms keep you confined to bed or at home, take 2 LiquiCaps every 4 hours. Do not exceed 12 LiquiCaps per day, or as directed by your doctor.
Children under 12 years: Do not use.
When using other DayQuil or NyQuil products, carefully read each label to ensure correct dosing.
Ingredients:
Medicinal Ingredients:
Each NyQuil Sinus LiquiCap contains:
Acetaminophen 325 mg
Doxylamine Succinate 6.25 mg
Phenylephrine Hydrochloride 5 mg
Nonmedicinal Ingredients:
FD&C Blue No. 1, gelatin, glycerin, polyethylene glycol, povidone, propylene glycol, purified water, sorbitol sorbitan solution, titanium dioxide
Other Information
Store at room temperature.
Avoid excessive heat.
Warnings:
Caution: Do not exceed recommended dosage. Do not use with other products containing acetaminophen or cold and flu ingredients. Do not take if allergic to acetaminophen. If you consume 3 or more alcoholic drinks every day, ask your doctor whether you should take acetaminophen or other pain relievers/fever reducers. Acetaminophen may cause severe or even fatal liver damage.
Consult a doctor if:
Symptoms do not improve or are accompanied by high fever, or if fever lasts more than 3 days.
You develop allergic reactions such as wheezing, rash, or itching
Do not take this product for more than 5 days
May cause marked drowsiness; alcohol may increase the drowsiness effect. Avoid alcoholic beverages while taking this product. Do not drive a motor vehicle or engage in any activities requiring alertness while taking this product.
Do not take this product unless directed by a doctor if you have:
Chronic alcoholism
Serious liver or kidney disease
Heart disease
High blood pressure
Thyroid disease
Diabetes
Glaucoma
Asthma
Difficulty urinating due to an enlarged prostate gland
Chronic lung disease or shortness of breath
Recently taken (within 2 weeks) or are currently using a monoamine oxidase inhibitor (MAOI) (certain drugs for depression, psychiatric or emotional conditions, or Parkinson's disease)
Ask a doctor or pharmacist before use if:
You are taking sedatives or tranquilizers
You are pregnant or breastfeeding
You use any other medications including natural health products, prescription drugs, salicylates, or other pain and fever relief medication (nonsteroidal anti-inflammatory drugs (NSAIDs))
Keep out of reach of children
Taking more than the recommended dose can cause serious health problems. You may experience increased sweating, nausea, vomiting, stomach pain, and loss of appetite. In case of overdose, get medical help or contact a Poison Control Center right away. Quick medical attention is critical for adults as well as for children even if you do not notice and signs or symptoms.
Tamper evident: Use only if end flap seals and sealed blisters are intact