---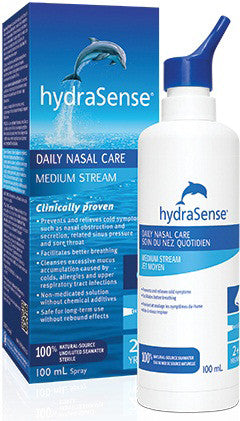 Medium Stream works by flushing out excessive mucus accumulation, relieving congestion caused by colds, allergies, dust, environmental pollutants or upper respiratory tract infections to help you breathe better.
Benefits:
Prevents and relieves cold symptoms such as nasal obstruction and secretion, related sinus pressure and sore throat
Facilitates better breathing
Cleanses excessive mucus accumulation caused by colds, allergies and upper respiratory tract infections
Non-medicated solution without chemical additives
Safe for long-term use without rebound effects when used as directed
Directions:
Gently apply hydraSense Medium Stream at least twice a day (morning and evening), and 4 to 6 times a day when cold or allergy symptoms are present. For children over 2 years of age and adults.