---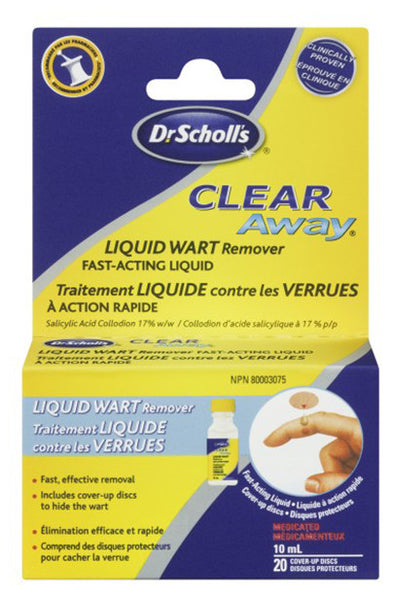 Dr. Scholl's Clear Away Liquid Wart Remover 9.8 mL
Dr. Scholl's Clear Away Liquid Wart Remover contains salicylic acid 17% w/w in a flexible collodion for the effective removal of common and plantar warts. It conceals as it heals with cover-up discs that hide and protect your warts.
Ingredients:
Active Ingredients: Each Application Contains: Salicylic Acid (17% W/w).Inactive Ingredients: Castor (Ricinus Communis) Seed Oil, Ethyl Lactate, Flexible Collodion, Polybutene, Alcohol (18% W/w, Ether 53% V/v) (From Flexible Collodion).
Directions:
Wash affected area. May soak wart in warm water for 5 minutes. Dry area thoroughly. Apply one drop at a time with applicator to sufficiently cover each wart. Let dry. Self-adhesive cover-up discs may be used to conceal wart. Repeat procedure once or twice daily as needed (until wart is removed) for up to 12 weeks. Warning: Store between 20° to 25° (68° to 77°F). Keep tightly closed. For external use only. Do not use: if you are a diabetic, if you have poor blood circulation, on irritated skin or any area that is infected or reddened; on moles, birthmarks, warts with hair growing from them, genital warts, or warts on the face or mucous membranes. Stop use and ask a doctor if discomfort lasts.