---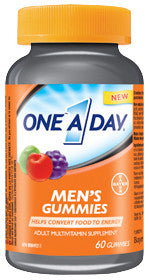 One A Day Men's Gummies is an adult multivitamin for men, with B vitamins that help convert food to energy. In great tasting fruit flavours (green apple, blue raspberry and cherry), they are a fun way for men to get their essential vitamins.
Help maintain immune function
Provide antioxidants for the maintenance of good health
Help in development and maintenance of bones, teeth, cartilage and gums
Help your body metabolize proteins, fats and carbohydrates
Aid in wound healing and the formation of red blood cells
Help maintain eyesight and night vision
Directions:

For adults and adolescents 14 years and older. Chew two gummies daily.