---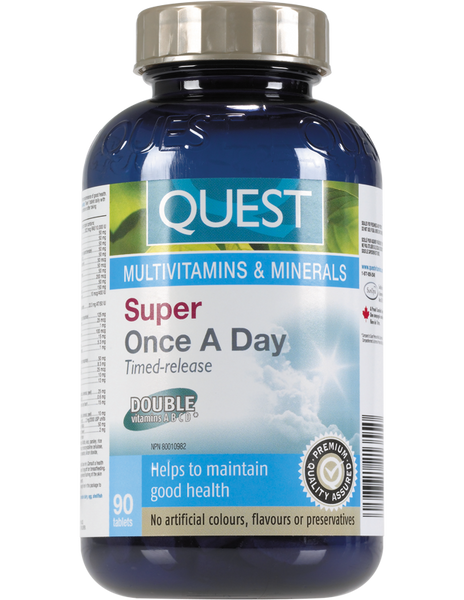 Quest Super Once A Day Time Release Multiple Vitamins and Chelated Minerals is a premier multivitamin and mineral formula that provides megadose nutrition in a single tablet. The time release format gives a continuous supply of nutrients, assuring maximum utilization of each ingredient. This supplement contains a complete spectrum of essential vitamins and easily absorbed amino acid-chelated minerals in a formula that also maximizes bioavailability and physiological bioactivity of the nutrients.Multivitamin and mineral supplements provide a balanced dose of the basic vitamins and minerals in amounts that pose little or no risk of overdosing on any one nutrient.

Ingredients contains Nutrients, Chelated Minerals and Lipotropic Factors:
Vitamin A (Palmitate) 10,000 IU
Vitamin D3 400 IU
Vitamin E (d-alpha-Tocopherol Acetate) 50 IU
Vitamin C (Ascorbic Acid) 150 mg
Vitamin B1 (Thiamine HCl) 50 mg
Vitamin B2 (Ribofl avin) 50 mg
Vitamin B3 (Niacin) 50 mg
Pantothenic Acid (d-Calcium Pantothenate) 50 mg
Vitamin B6 (Pyridoxine HCl) 50 mg
Folic Acid 0.2 mg
Vitamin B12 (Cobalamin) 50 mcg
Biotin 50 mcg
Calcium (HVP Chelate, Calcium Phosphate) 125 mg
Magnesium (gluconate) 5.3 mg
Phosphorus (HVP Chelate, Calcium Phosphate) 50 mg
Potassium (gluconate) 8.3 mg
Iron (HVP Chelate) 15 mg
Zinc (HVP Chelate) 10 mg
Manganese (HVP Chelate) 1 mg
Copper (HVP Chelate) 1 mg
Iodine (Potassium Iodide) 0.1 mg
Selenium (HVP Chelate) 25 mcg
Chromium (HVP Chelate) 25 mcg
Choline Bitartrate 50 mg
Inositol 50 mg
Take 1 tablet daily with a meal. Take a few hours before or after taking medication.

Considerations:
Not for use by children. Consult a health care practitioner if you have a serious illness or are taking medications. Consult a health care practitioner before use if you are pregnant or breastfeeding. Keep out of reach of children.