---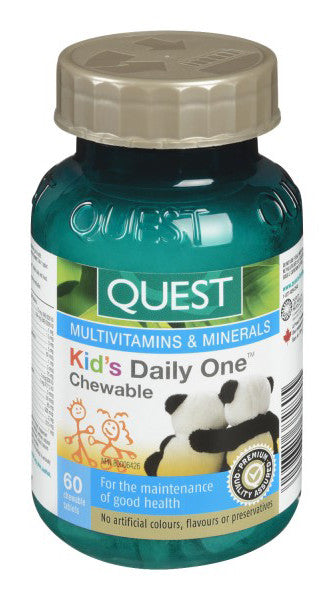 Quest Kids Daily One Chewable is a high-quality, well-balanced, one-a-day multivitamin and mineral supplement designed specifically to meet the needs of children from 4 to 13 years. Formulated as a great-tasting chewable tablet, this supplement provides all the nutrients required to maintain childrens overall good health.
Ingredients:

Each great-tasting chewable tablet of Quest Kids Daily One contains 500 IU of beta-carotene, 2000 IU of vitamin A, 1 mg of thiamine, 1.5 mg of riboflavin, 5 mg of niacinamide, 5 mg of pantothenic acid B5 (calcium d-pantothenate), 50 mcg of folate (folic acid), 1 mg of vitamin B6 (pyridoxine HCl), 5 mcg of vitamin B12 (cyanocobalamin), 75 mg of vitamin C (calcium ascorbate), 200 IU of vitamin D (cholecalciferol), 7.5 IU of vitamin E (d-alpha-tocopheryl acetate), 5 mcg of biotin, 50 mcg of iodine (potassium iodide), 65 mg of calcium (phosphate tribasic), 500 mcg of copper (gluconate), 2 mg of iron (ferrous fumarate), 32.5 mg of magnesium (oxide), 1 mg of zinc (oxide), and natural flavours.

Directions:

Children 4 to 8 years take 1 tablet daily with food. Children 9 to 13 years take 1 or 2 tablets daily with food. Take a few hours before or after taking medication.