---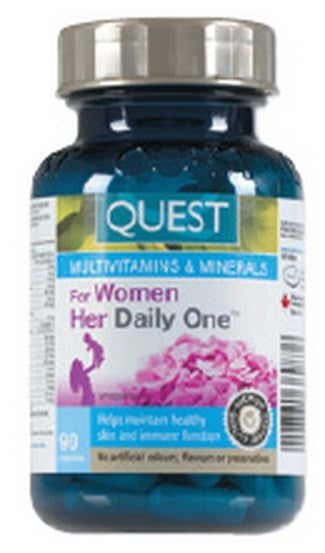 Specially designed to reinforce and maintain healthy bones, supple skin and those entering child bearing years. A factor in the maintenance of good health that keeps up with a woman's healthy lifestyle. Quest For Women Her Daily One is a superior, balanced multivitamin supplement. Helps to maintain muscle function, immune function, eyesight, skin, bones and teeth.

Features:
800 mg folic acid per capsule
800 IU vitamin D per capsule
25 mg vitamin B6 per capsule
100 mcg vitamin B12 per capsule
Ingredients:
Beta-Carotene 301 mcg
Vitamin A (palmitate) 755 mcg
Thaimine (thiamine HCI) 5 mg
Riboflavin 5 mg
Niacinamide 10 mg
Pantothenic acid (calcium d-pantothenate) 10 mg
Folate (folic acid) 800 mcg
Vitamin B6 (pyridoxine HCI) 25 mg
Vitamin B12 (cyanocobalamin) 100 mcg
Vitamin C (ascorbic acid, calcium ascorbate, magnesium ascorbate) 75 mg
Vitamin D (cholecalciferol) 20 mcg
Vitamin E (d-alpha-tocopheryl succinate) 33.5 mg
Biotin 450 mcg
Iodine (potassium idodide) 20 mcg
Calcium (ascorbate, carbonate) 225 mg
Chromium (HVP chelate) 100 mg
Copper (gluconate) 2000 mcg
Iron (ferrous fumarate) 10 mg
Magnesium (ascorbate, oxide, citrate) 80 mg
Manganesse (HVP chelate) 2.5 mg
Potassium (citrate) 15 mg
Selenium (HVP chelate) 55 mcg
Zinc (HVP chelate) 7.5 mg
Dosage:

Take one or more capsules a day, as a dietary supplement.