---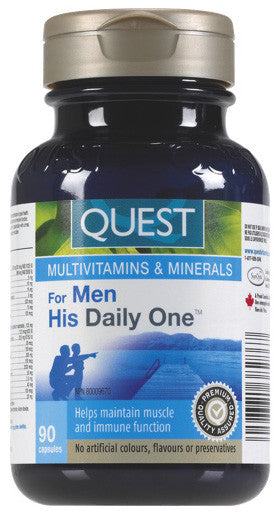 Quest His Daily One for Men is a high-quality, well-balanced, one-a-day multivitamin and mineral supplement designed specifically to meet the life-stage and gender needs of men. Formulated as a capsule, this supplement is easily absorbed and easy to swallow, and it provides all the nutrients required to maintain muscle and immune function and overall good health.

Ingredients:

Each easy-to-swallow capsule of Quest His Daily One for Men contains 1005 IU of Beta-carotene, 3000 IU of vitamin A, 5 mg of thiamine, 10 mg of riboflavin, 15 mg of niacinamide, 5 mg of pantothenic acid B5 (calcium d-pantothenate), 500 mcg of folate (folic acid), 15 mg of vitamin B6 (pyridoxine HCl), 100 mcg of vitamin B12 (cyanocobalamin), 100 mg of vitamin C (ascorbic acid, calcium ascorbate, magnesium ascorbate), 500 IU of vitamin D (cholecalciferol), 50 IU of vitamin E (d-alpha-tocopheryl succinate), 50 mcg of biotin, 150 mcg of iodine (potassium iodide), 200 mg of calcium (ascorbate, carbonate), 150 mcg of chromium (HVP chelate), 2000 mcg of copper(gluconate), 50 mg of magnesium (ascorbate, oxide, citrate), 2.5 mg of manganese (HVP chelate), 40 mg of potassium (citrate), 100 mcg of selenium (HVP chelate), and 20 mg of zinc (HVP chelate).

Directions:

Adults take 1 capsule daily with a meal. Take a few hours before or after taking medication.