---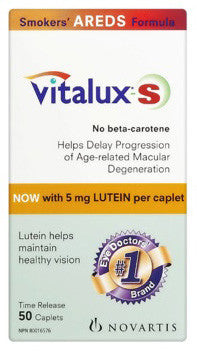 If you have age-related macular degeneration (AMD) and you smoke, or if you recently quit smoking, beta-carotene-free Vitalux-S may be appropriate for you. Vitalux-S is identical to the Vitalux Areds formula, but without beta-carotene. Vitalux-S is specifically formulated for smokers and recent ex-smokers with the Areds ingredients shown to delay the progression of age-related macular degeneration and maintain healthy vision.

Ingredients:

Vitamin C 250mg, Vitamin E 134 mg AT, Zinc 40 mg, Copper 1 mg, Lutein 5 mg - Yielding Zeaxanthin (250mcg).

Directions:

Take 2 caplets per day with a meal or as directed by a health care practitioner. Take a few hours before or a few hours after taking other medications. Do not crush the caplets.