---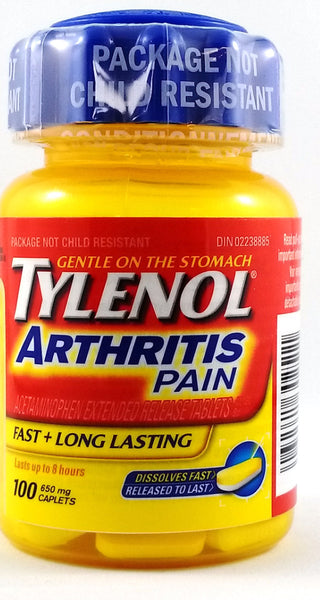 TYLENOL Arthritis Pain. Fast Plus Long Lasting Relief of Arthritis Pain

When arthritis pain strikes, you want relief fast, but you also want it to last so you can get back to normal whatever your normal is.

Now try TYLENOL Arthritis Pain. TYLENOL Arthritis Pain products use a patented bi-layer caplet for fast plus long lasting relief of arthritis pain for up to 8 hours. The first layer dissolves quickly to relieve pain fast. The second layer is time-released to provide extended relief that lasts all work day.

Available in an Easy to Open Bottle (100 & 170 sizes). The easy to open cap has been approved by The Arthritis Society.

Gentle on the Stomach

TYLENOL Arthritis Pain works with your body to be Tough on Pain and Gentle on the Stomach.

1st Line Therapy

* The medicine found in TYLENOL Arthritis Pain caplets, acetaminophen, is recommended as first-line therapy by
* The Canadian Rheumatology Association (CRA).
* Up to 8 hours of relief.

For effective relief of:

* Arthritis Pain
* Format: Bi-layer extended release caplets

Dosage:

Adults use only (12 years and older):

* 2 extended release caplets every 8 hours as required.
* Do not take more than 6 caplets per day.
* Swallow each caplet whole with water on an empty stomach.
* Do not crush, chew or dissolve the caplet.

Medicinal Ingredients:

Each caplet contains:

* Medicinal Ingredient: Acetaminophen, 650 mg
* Benefit: Pain reliever

Non-Medicinal Ingredients (alphabetical):

Carnauba wax, cellulose, corn starch, D&C Yellow no. 10, FD&C Yellow no. 6, hydroxyethyl cellulose, hypromellose, magnesium stearate, povidone, sodium starch glycolate, triacetin.