---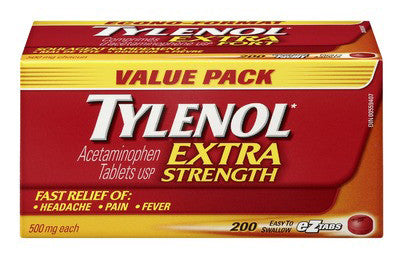 When you are suffering from aches and pains or a nagging headache, you are not yourself. You want fast, effective relief so that you can get back to normal, whatever your normal is.Trust Extra Strength Tylenol. Extra Strength Tylenol products are tough on pain, but easy on your stomach, providing the effective relief you need.

Dosage:
Adult use only (12 years and older): Take 1 caplet or tablet every 4 and 6 hours. If pain or fever does not respond to 1 caplet or tablet, take 2 caplets or tablets at next dose. Do not take more than 8 caplets or tablets per day.

Medicinal Ingredients:
Acetaminophen, 500 mg

Warning:
Do not use if carton is open or if printed bottle neck band or inner foil seal is broken.