---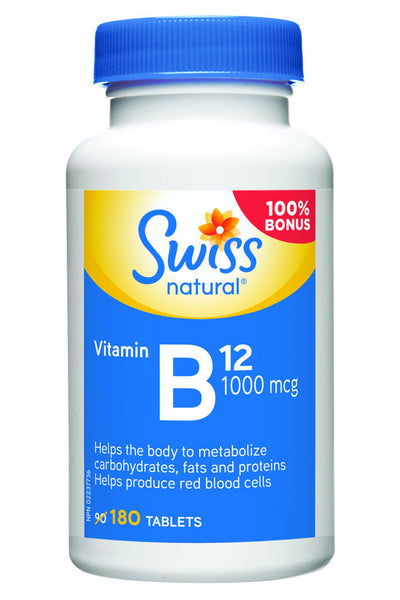 Swiss Natural Vitamin B12 1,000 mcg (180 tablets) is sometimes called an "energy vitamin," due to the fact that vitamin B12 plays a major role in Helping the body metabolize fats, carbohydrates and proteins. B12 is an essential vitamin that the body can't produce on its own, and therefore must rely on diet or supplementation. Foods that are high in vitamin B12 include beef, eggs and fish. Modern diets and various health problems that effect vitamin B12 absorption can lead to deficiency and symptoms of weakness, fatigue, constipation and depression.

Benefits:
Helps convert fats, carbs and proteins into cellular energy
Promotes heart and brain health
Helps maintain healthy blood cells and tissues
Helps synthesize essential fatty acids for myelin (nerve) maintenance and the reduction of depression, stress and brain shrinkage
May Help maintain healthy cholesterol levels
Plays a role in cell production and skin renewal for skin, hair and nail health
Ingredients:

Vitamin B12 (cyanccobalamin) 1,000 mcg.

Precautions:
Do not exceed recommended dosage.
Store beyond reach of children.
Consult a health care professional prior to using Swiss Natural Vitamin B12 you are taking medications or are pregnant or nursing.