---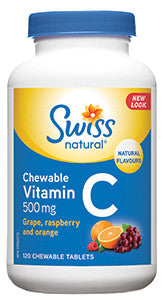 We're known for having great taste. Great taste in Vitamin C that is. Get your daily dose of Vitamin C in delicious orange, grape, and raspberry naturally flavoured chewables. Every day you can enjoy a different flavour but still get the right dose of vitamin C to help protect you from free radicals, and help the development and maintenance of bones, cartilage, teeth, and gums.

Ingredients:

Vitamin C (Ascorbic Acid, Sodium Ascorbate) 500mg.

Dose:

Adults take 1 tablet daily or as directed by healthcare practitioner.

Use:

Helps in the maintenance of bones, cartilage, teeth and gums. An antioxidant for the maintenance of good health.