---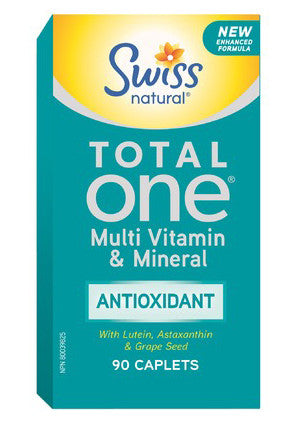 When it comes to your health you want all the good stuff, plus a little extra protection. So Swiss Natural Sources developed Total One Antioxidant. It's the multi vitamin you love, but specially formulated with high amounts of antioxidants to help protect your body from free radicals. You won't find any preservatives, colours, dairy, or wheat in this product.

Ingredients:

Beta Carotene, Vitamin A (Acetate), Vitamin B1 (Thiamine Hydrochloride), Vitamin B2 (Riboflavin), Vitamin B6 (Pyridoxine Hydrochloride), Vitamin B12 (Cyanccobalamin), Biotin, Folic Acid (folate), Niacinamide, Pantothenic Acid (Calcium d-Pantothenate), Vitamin C (Ascorbic Acid), Vitamin D3 (Cholecalciferol), Vitamin E (D-Alpha Tocopheryl Acid Succinate), Calcium (Carbonate, HVP Chelate, Citrate Tetrahydrate), Chromium (HVP Chelate), Copper (HVP Chelate), Iodine (Kelp), Magnesium (HVP Chelate, Oxide), Manganese (HVP Chelate), Molybdenum (HVP Chelate), Astaxanthin (Haematococcus pluvialis), Selenium (HVP Chelate), Zinc (HVP Chelate), Broccoli (seed, 1% Sulforaphane) (Brassica oleracea), Dried Cranberry juice (4:1) (vassinium macracarpon Aiton), Alpha Lipoic Acid, Hypromellose, Microcrystalline Cellulose, Magnesium Stearate, Vanilla.

Directions:

Adults (Men and Women) take 1 caplet daily with food or as directed by healthcare practitioner. Take a few hours before or after taking other medications.