---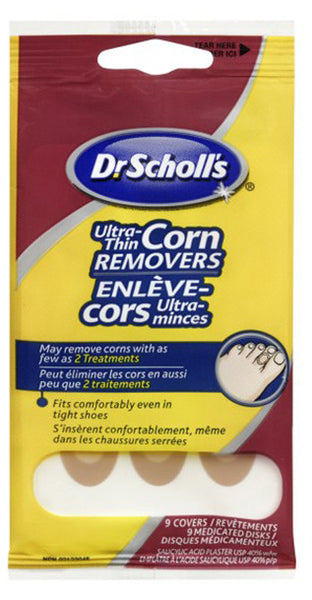 Dr. Scholl's Ultra-Thin Corn Removers 9 Covers / 9 Medicated Disks
Dr. Scholl's Ultra Thin Corn Removers is a patented medicated formula containing salicylic acid USP 40% w/w that removes corns effectively and provides immediate cushioning and pain relief from shoe pressure. It is an easy, one-step application with no need to apply medicated disk and cushion separately. These cushions feature an ultra thin cover that won't interfere with shoe fit, so they fit comfortably even in tight shoes.
Ingredients:
Active Ingredients: Salicylic Acid (40%) (Corn remover).Inactive Ingredients: Anti Oxidant (CAS 991-84-4), Iron Oxides, Mineral Oil (Paraffinum Liquidum), Petroleum Hydrocarbon Resin, Silicon Dioxide, Synthetic Polyisoprene Rubber, Talc.
Directions:
Wash affected area and dry thoroughly. If necessary, cut medicated disk to fit corn. Apply disk with sticky side adhering to skin and cover disk with enclosed cushion. After 48 hours, remove the disk and repeat the process every 48 hours for up to 14 days (until corn is removed). You can soak the corn in warm water for 5 minutes to help remove it. Cautions: For external use only. Do not use if you are diabetic, have poor blood circulation, or on irritated skin. Stop use and ask doctor if discomfort lasts. Keep out of reach of children.