---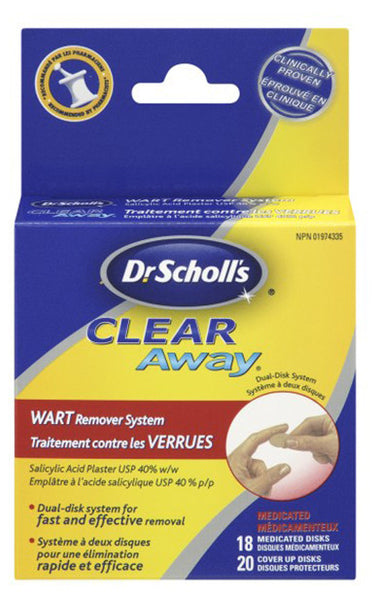 Dr. Scholl's Clear Away Wart Remover System 18 Medicated Disks / 20 Cover-Up Disks
Dr. Scholl's Clear Away Wart Remover System contains salicylic acid USP 40% w/w and includes a dual-disk system for effective removal of common warts.
Ingredients:
Active Ingredients: Each disc contains: Salicylic Acid (40%).Inactive Ingredients: Anti Oxidant (CAS 991-84-4), Iron Oxides, Mineral Oil (Paraffinum Liquidum), Petroleum Hydrocarbon Resin, Silicon Dioxide, Synthetic Polyisoprene Rubber, Talc.
Directions:
Wash affected area. May soak wart in warm water for 5 minutes. Dry area thoroughly. If necessary, cut medicated disc to fit wart. Apply medicated disc directly over wart. Self-adhesive cover-up discs may be used to conceal medicated disc and wart. Repeat procedure every 48 hours as needed (until wart is removed) for up to 12 weeks. Store between 20° to 25°C (68° to 77°F).