---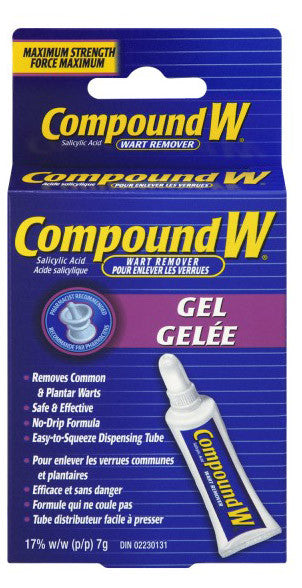 Compound W Wart Remover Gel easily removes common and plantar warts with a no-drip formula that comes in an easy-to-squeeze dispenser tube for simple application. It uses salicylic acid to painlessly remove warts, helping new skin emerge.
Ingredients:
Active Ingredients: Salicylic Acid (17% w/w) (Wart Remover)Inactive Ingredients: Alcohol (67.5%) (v/v), Camphor, Castor (Ricinus Communis) Seed Oil, Collodian, Silicon Dioxide, Hydroxypropyl Cellulose, Hypophosphorous Acid, Polysorbate 80.
Directions:
Wash affected area. Soak wart in warm water for 5 minutes. Dry area thoroughly. Gently squeeze the tube to apply one drop at a time to sufficiently cover each wart. Let dry. Repeat this procedure once or twice daily as needed (until wart is removed) for up to 12 weeks.