---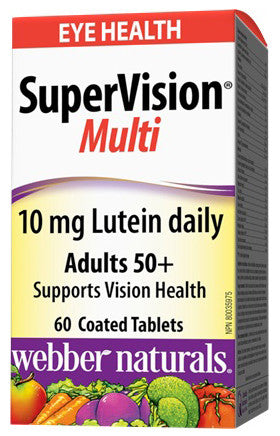 SuperVision Multi contains foundation nutrients and 10 mg of lutein, plus added zeaxanthin and lycopene, antioxidants known to support the health of fragile capillaries like those in the eyes. Specifically formulated for healthy aging, SuperVision Multi from webber naturals offers nutritional support for those 50 years and over.

Ingredients:
Lutein (Tagetes erecta) (flower) 5 mg
Zeaxanthin (Tagetes erecta) (flower) 1 mg
Lycopene (Lycopersicon esculentum) (fruit) 150 mcg
Beta-Carotene 1500 mcg (2500 IU)
Vitamin D (Cholecalciferol) 5 mcg (200 IU)
Vitamin E (d-alpha Tocopheryl Acetate) 33.5 mg AT (50 IU)
Vitamin C (Ascorbic Acid) 150 mg
Niacin (Nicotinic Acid) 17.5 mg
Pantothenic Acid (Calcium d-Pantothenate) 5 mg
Vitamin B6 (Pyridoxine Hydrochloride) 4 mg
Riboflavin 1.6 mg
Vitamin B1 (Thiamine Mononitrate) 1.13 mg
Folate (Folic Acid) 250 mcg
Biotin 22.5 mcg
Vitamin B12 (Cyanocobalamin) 12.5 mcg
Calcium (Dicalcium Phosphate Dihydrate) 81 mg
Phosphorus (Dicalcium Phosphate Dihydrate) 62.5 mg
Potassium (Chloride) 40 mg
Chlorine (Potassium Chloride) 36 mg
Magnesium (oxide) 25 mg
Zinc (Citrate) 20 mg
Manganese (sulfate) 2.5 mg
Copper (sulfate) 1 mg
Iodine (Potassium Iodide) 75 mcg
Chromium (HVP* Chelate) 50 mcg
Molybdenum (Citrate) 12.5 mcg
Selenium (HVP* Chelate) 12.5 mcg
Tin (stannous Chloride) 5 mcg
Silicon (Equisetum arvense) (aerial) 5 mcg
Cautions:

Some people may experience a flushing, burning, tingling or itching sensation on the face, arms or chest. Do not use if you are pregnant or breastfeeding. Keep out of reach of children. For adult use only.