---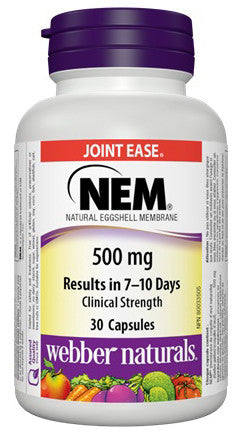 NEM Natural Eggshell Membrane reduces joint pain and improves mobility in just 7-10 days. NEM is clinically proven to be the fastest, most effective nutritional formula for relieving osteoarthritis and other joint conditions. Clinical Strength NEM from webber naturals provides a full-strength dose of the same NEM formula proven in clinical trials.

Ingredients:

Each capsule contains NEM (Natural Eggshell Membrane) (Gallus gallus) (egg shell) 500 mg.

Cautions:

Do not use if you are allergic to eggs. Consult a physician prior to use if you are pregnant or breastfeeding. Consult a physician if symptoms worsen. Keep out of reach of children.