---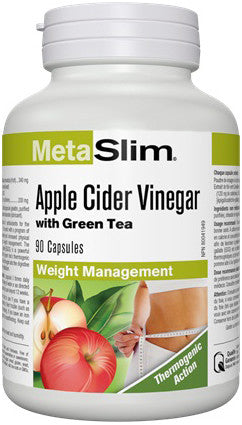 MetaSlim Green Tea Extract with Apple Cider Vinegar can be used by those cutting calories from their diet along with increased physical exercise to help in weight management. This combination is also an excellent source of antioxidants for the maintenance of good health.

Ingredients:

Each Capsule contains Green tea (Camellia sinensis) (leaf) extract (60% Catechins, 25% Egcg, 12.5% Caffeine) 200 mg.

Cautions:

Consult a physician prior to use if you have a liver disorder, iron deficiency, or develop symptoms of liver trouble (such as abdominal pain, dark urine or jaundice), or if you are pregnant or breastfeeding. Keep out of reach of children.