---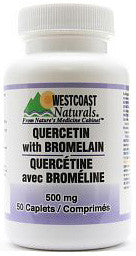 Acts as an antioxidant for the maintenance of good health.

Use:

For adults only, take one to two Westcoast Naturals Quercetin with Bromelain 500mg caplets per day with a meal.

Ingredients:

Pure Quercetin and Bromelain 2000 GDU/gram.

Warning:

Consult a healthcare practitioner prior to use if you are taking blood thinners (anticoagulants e.g. warfarin), Quinolone antibiotics, Cisplatin, any herbs or prescription medication. Discontinue use if gastrointestinal discomfort occur. Do not use if you are pregnant or breastfeeding.