---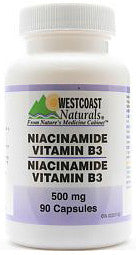 A factor in the maintenance of good health. Helps the body to metabolize carbohydrates, fats and proteins. Helps normal growth and development. Vitamin B3, also known as niacin or Niacinamide, aids with circulation, digestion and function of the nervous system. It enables the body to metabolize fats, proteins and carbohydrates. Beef liver, brewer's yeast, broccoli, carrots, etc, are sources of Vitamin B3. Niacin and Niacinamide are essentially the same when taken in low doses for nutritional purposes. Only when taken in higher doses, each has a specific effect.

Use:

Take One capsule of Westcoast Naturals Niacinamide 500 mg once per day with a meal, or as directed by a healthcare practitioner.

Ingredients:

100% Pure Vitamin B3 (Niacinamide).

Warning:

For therapeutic use only. May cause mild flushing, itching or burning of the skin. Consult a healthcare practitioner prior to use if you have a history of ulcers, gallbladder or liver disease.