---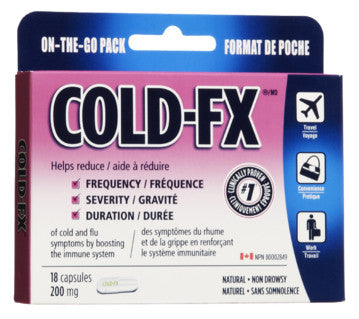 COLD-FX help reduce:
Frequency
Severity
Duration
Directions for use:
Recommended for adults and children 12 years of age and older. Take 1 capsule 2 times daily.
Ingredient:
Medicinal Ingredient: Each capsule is certified to contain 200 mg of CVT-E002TM, a proprietary ChemBioPrint® (CBP®) product rich in poly-furanosyl-pyranosyl-saccharides extracted from the root of Panax quinquefolius (North American ginseng, 4:1).
Non-medicinal Ingredients: Gelatin, natural capsule colour (chlorophyllin, titanium dioxide).
Caution:
Individuals requiring anti-coagulant therapy such as warfarin should avoid the use of COLD-FX®. Do not use if pregnant or breastfeeding. Not recommended for individuals with impaired liver or renal function. As COLD-FX is a derivative of North American ginseng, individuals with known allergies to ginseng should avoid use of COLD-FX. Do not exceed the recommended daily dose.