---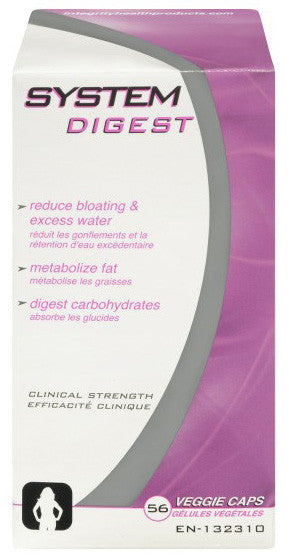 System Digest is the weight loss formula that helps prevent temporary weight fluctuations. It is designed to address a woman's specific weight loss needs. A proprietary enzyme blend, DigeZyme, attacks undigested food, metabolizes fat and digests carbohydrates to help eliminate that bloated, fat feeling.

Ingredients:

Potassium, Chromium, Asparagus root extract, Green tea extract, Peppermint leaf oil powder, Fennel seed oil powder, Ginger root extract, Papain, Bromelain, Amylase, Protease, Lipase, Cellulose, Lactase, Lactobacilus acidophilus, Dandelion leaf extract, Papaya fruuit, Micro crystalline cellulose, Vegetable grade magnesium, Vegetable cellulose.

Directions:

As a dietary supplement, adults take two (2) capsules before lunch and two (2) capsules before dinner.