---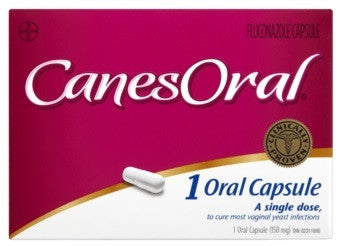 The Canesten ComforTAB is a slim, vaginal tablet preferred for its cleanliness and convenience. The ComforTAB is inserted high into the vagina with a sleek applicator, allowing you to treat your infection at the site. This convenient 1-day, single-dose treatment will continue to work over several days until the infection is cured. Combine this treatment with the soothing external cream twice a day for fast relief of external itching and burning.
Directions:
After reading the enclosed circular, use the applicator to place one vaginal tablet high in the vagina at bedtime. To use the cream, squeeze a small amount onto your finger and gently spread over the irritated vaginal area. Use the cream once or twice a day as needed for up to 7 consecutive days to relieve external vaginal itching. To help prevent re-infection, wear cotton underwear. Product Monograph available to doctors and pharmacists upon request.
Ingredients:
benzyl alcohol, calcium lactate, cetostearyl alcohol, cetyl esters wax, corn starch, crospovidone, hypromellose, lactic acid, lactose, magnesium stearate, microcrystalline cellulose, octyldodecanol, polysorbate 60, silicon dioxide, sorbitan monostearate, and water.
Warnings:
If you are at increased risk for sexually transmitted diseases, have multiple sexual partners or change partners often, consult a doctor before starting each treatment. Canesten may reduce the effectiveness and safety of latex products (e.g. condoms and diaphragms) and vaginal spermicides. This effect is temporary and occurs only during treatment. Do not use tampons, intravaginal douches or other vaginal products while using this product. Use only if you have previously had a vaginal yeast infection diagnosed by a doctor and you have the same symptoms now. Otherwise, consult your doctor. These symptoms include itching and burning of the vagina and, sometimes, a white discharge. If there is no improvement in 3 days or if symptoms have not disappeared within 7 days, you might not have a vaginal yeast infection. Consult your doctor. If you have abdominal pain, fever, or foul-smelling discharge before or during the use of this medication, consult your doctor. If symptoms return within 2 months, consult your doctor. If you are pregnant, think you are, or are nursing, do not use unless advised to by a doctor. Do not use in children under 12 years of age unless advised by a doctor. If skin rash or new irritation occurs, discontinue use. Keep safely out of reach of children. Do not use if foil on inner package is broken, torn or incompletely sealed. Do not use if foil at mouth of tube is broken or missing. Store between 2°C and 30°C.