---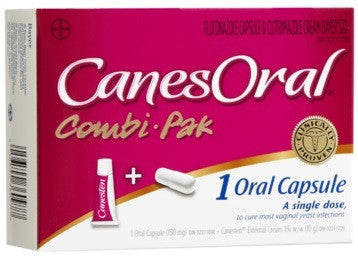 The CanesOral Combi-Pak (from the makers of Canesten) contains two products: a convenient oral pill that can be taken anytime anywhere, and an external cream. The CanesOral (from the makers of Canesten) pill works internally to cure the vaginal yeast infection (VYI) itself while the external cream can be applied to the irritated area to help soothe external itching and burning.This convenient 1-day treatment usually begins to relieve symptoms within 24 hours, with a cure within 7 days.
Directions:
Adults (12 years old and older): Take CanesOral (from the makers of Canesten) by mouth as a one-time-only dose, with or without food, or as directed by your doctor or pharmacist. DO NOT take more than one dose for this infection. If your symptoms have not improved within 3 days and disappeared in 7 days, contact your doctor.
Oral Capsule: colloidal silicon dioxide, D&C Red #7, gelatin, lactose monohydrate, magnesium stearate, pregelatinized starch, propylene glycol, shellac, sodium lauryl sulphate and titanium dioxide.
External Cream: benzyl alcohol, cetostearyl alcohol, cetyl esters wax, octyldodecanol, polysorbate 60, sorbitan monostearate and water.
Warnings:
Do not take:
If you are pregnant
If you are nursing
If you are allergic to fluconazole related azoles (e.g. clotrimazole/miconazole) or other ingredients in the product
If you are taking allergy drugs (e.g. astemizole/terfenadine)
If you are taking cisapride
BEFORE USING CanesOral (from the makers of Canesten) talk to your doctor or pharmacist if:
You are having your first yeast infection.
You have frequent vaginal infections.
You are at increased risk for sexually transmitted diseases, have multiple sexual partners or change partners often.
You have heart disease.
Using in children less than 12 years old.
If you could become pregnant while taking CanesOral (from the makers of Canesten), you should consider using a reliable means of contraception, because the possible effects of this medication on a developing fetus are not known. Canesten Cream reduces the effectiveness of latex condoms and diaphragms. Their use is not recommended during Canesten therapy and for 3 days afterwards. Condoms and diaphragms may be damaged and fail to prevent pregnancy or sexually transmitted diseases.
Yeast infections do not cause:
Fever
Chills
Abdominal pain
Nausea
Vomiting
Diarrhea
Pain upon urination
Unexplained pain in your lower back or either shoulder
Foul-smelling discharge
Consult your doctor immediately if you have these symptoms, as they could be signs of a more serious problem.
Store the product at room temperature between 15-30°C.
Keep out of reach of children.