---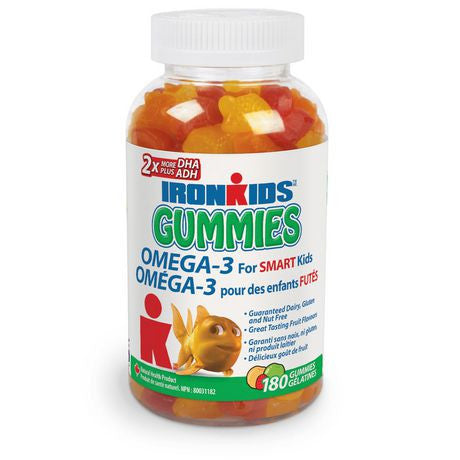 Omega-3 For SMART Kids
IronKids Gummies Omega-3 are specially formulated with pure source DHA and EPA, essential fatty acids that are needed for the optimum development of a child's brain and nervous system.
These gummies are gelatin-based with the chewy texture and fruity taste that kids love!
Recommended use: a source of omega-3 DHA & E
Directions for use: children 2 to 3 years of age, chew 4 gummies daily. Children 4 years and older, chew 4 gummies 1 to 3 times daily.
Medicinal ingredients: FishOils 90mg, Omega-3 Fatty Acids 25mg, Docosahexaenoic Acid (DHA) 20 mg, Eicosapentaenoic Acid (EPA) 5 mg
Non-medicinal ingredients: glucose syrup, sugar, water, gelatin, citric acid, natural flavours (orange/peach, strawberry/ banana, green apple), natural colours (annatto, black carrot), vegetable oil (coconut source), carnauba wax.
This product contains: fish oil (tuna), soybean oil.