---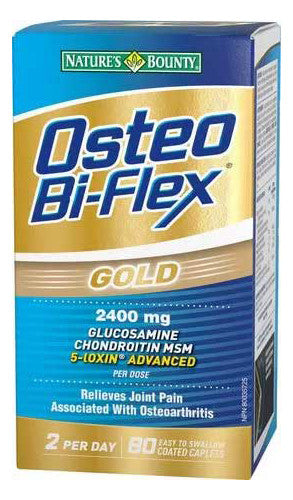 Osteo Bi-Flex Gold With Vitamin D helps treats the symptoms of mild to moderate osteoarthritis of the knee by relieving pain in as little as 5 days.
Improves joint function
It helps to maintain healthy cartilage and joint health
Helps in the development maintenance of bones
Contains 2400mg of Glucosamine Chondroitin MSM and 5-Loxin Advanced per dose

Ingredients:

Chondroitin Sulfate 200 mg (bovine, porcine, avian cartilage), Glucosamine hydrochloride 750 mg (exoskeleton of shrimp, crayfish, lobster, crab), Methylsulfonylmethane (MSM) 200 mg, Manganese (manganese sulfate) 1 mg, Boron (sodium borate) 1.5 mg, Vitamin C (ascorbic acid) 30 mg , Vitamin D (cholecalciferol) 12.5 mcg 5-LOXIN.

Advanced: Boswellia serrata extract (gum resin) 50 mg Standardized to 20% 3-O-acetyl-11-keto-beta-boswellic acid.

Directions:

Adults, take two (2) caplets per day with food. Use for a minimum of 1 month to see beneficial effects. Consult a health care practitioner for use beyond 3 months.