---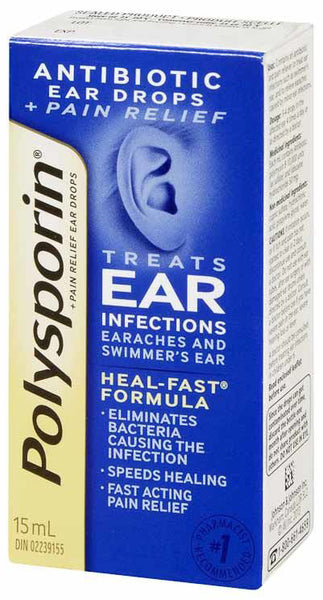 Antibiotic ear drops plus pain reliever for treatment of infections of the external ear, such as swimmer's ear, and relief of associated earaches.
Contains lidocaine hydrochloride for fast pain relief
Pharmacist Recommended anti-infective brand
Available in 10 mL bottles.
Appropriate for adults and children 6 years and older (consult doctor before use on children <6 years)
Directions for Use :
Apply 3 to 4 POLYSPORIN + Pain Relief Ear Drops in the affected ear 4 times a day for 5-7 days or as directed by a doctor. Avoid getting water into the ears until treatment is complete. Consult doctor before treating ear infections in children under 6 years of age.
CAUTIONS : If irritation occurs, or if itch and pain has not started to clear in 2 days, discontinue use and consult a doctor. Do not use with ear tubes, after ear surgery or with damaged eardrums unless directed by a doctor. Consult a doctor before use if you have severe pain in the ear, severe hearing loss or fever. DO NOT USE IN EYES.
Store between 15ºC and 30ºC.
How to Apply :
Lie on the side or tilt the head over so that the infected ear is facing upwards.
Gently pull the earlobe upwards, away from the neck, and squeeze the drops into the ear.
Let the drops flow against the side of the ear canal and gently massage the ear around the opening to help the drops work down.
Keep the head tilted for a few minutes.
Because the drops can get contaminated over time, discard the bottle one month after opening and do not share product with others.
Ingredients :
Medicinal Ingredients (per mL) : 10,000 units Polymyxin B (as Sulfate) and 50 mg lidocaine hydrochloride.
Non-medicinal Ingredients (alphabetically) : cupric sulfate, hydrochloric acid, propylene glycol, water.