---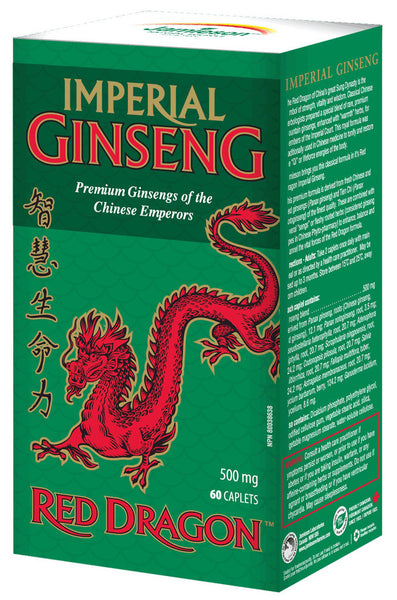 Red Dragon Imperial Ginseng is a superlative health tonic that is ideal for creating energy and vitality and for improving overall well being. It balances and strengthens Chi, the life force energies of the body. It helps to sharpen the mind and it increases insight and focus. Red Dragon Imperial Ginseng is a premium quality formula derived from the finest quality Panax and notoginsengs available in the world. This formula contains nine different ginsengs which are combined with ginseng-related herbs to enhance balance and channel ginseng's power. All nine ginsengs are derived from fresh Oriental ginseng root prepared using a traditional process.

Benefits:
A superlative health tonic
Ideal for creating energy, vitality and improving overall well-being
Balances and strengthens "Qi", the life force energies of the body
Sharpens the mind, increasing insight and focus
Ingredients:

Panax Ginseng (derived from Shiu Chu, Tien Chi, Red Kirin roots), roots Pseudostellaria heterophylla, Adenophorea tetraphylla, Salvia miltiorrhiza, Scrophulara ningpoensis, Codonopsis pilosula and Polygonum multiflorum ginsengs, Astragalus membranaceus roots, Ganoderma lucidum mycelium, Lycium Chinese berry 250 mg.

Precautions:

Consult a health care practitioner prior to use if you have diabetes, and/or if you are taking insulin, warfarin, or any caffeine containing herbs or supplements. Do not use if pregnant or breastfeeding. May cause sleeplessness.

Directions:

Adults, take two caplets daily with main meal or as directed by a healthcare practitioner. May be used up to three months.