---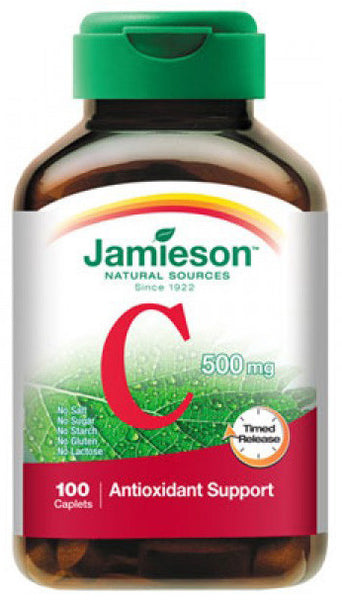 Jamieson's Vitamin C 500 mg Timed Release is formulated from natural sources and is pharmaceutically tested to guarantee full potency and absolute clinical purity. It is a powerful antioxidant that protects polyunsaturated fatty acids and proteins from oxidation, protects against cell damage, helps speed tissue healing, and boosts the immune system.

Benefits:
Promotes healthy capillaries, gums, and teeth
Aids in iron absorption
Helps heal wounds and broken bones
Helps treats anemia, especially iron deficiency anemia, by increasing the absorption of iron from the intestines
Helps form collagen in connective tissue
Contributes to hemoglobin and red blood cell production in bone marrow.
Aids in preventing viral and bacterial infections and generally potentiates the immune system
Aids in the treatment and prevention of the common cold
Ingredients:

Available as 100 caplets. Each caplet contains vitamin C (Ascorbic Acid) 500 mg. Prepared in a specially formulated nutrient base of the fruit extracts of acerola cherry, rosehips, and the C complex of rutin, hesperidin and lemon bioflavonoids.

Dosage:

Adults and children over 12 years - take 1 caplet daily. Keep in a cool, dry place away from children.