---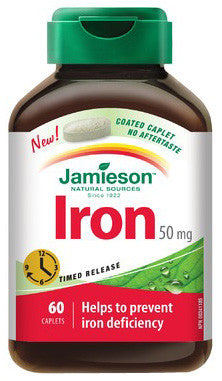 Jamieson Iron 50 mg Timed Release prevents or treats iron-deficiency anemia and helps to form red blood cells. It promotes overall health and helps fight fatigue and disease. Iron is an essential trace mineral. Approximately 70% of the body's iron forms part of hemoglobin, a protein found in red blood cells. As part of hemoglobin, iron helps transport oxygen to all the tissues and cells in the body. The remainder of iron is found in myoglobin, a protein that supplies oxygen to the muscles.

Ingredients:

Elemental Iron 50 mg from ferrous gluconate.

Directions:

Adults take one caplet daily with food. Take a few hours before or after other medications.