---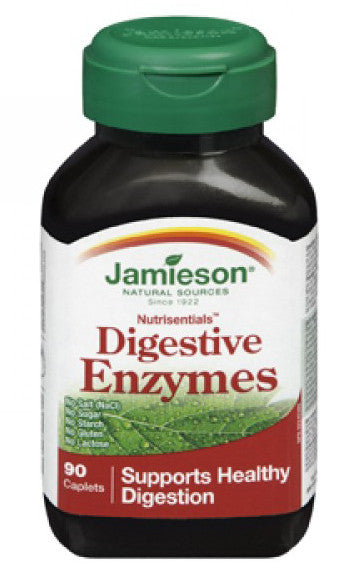 Jamieson Nutrisentials Digestive Enzymes provides a complete plant-source matrix for the digestion of protein, fat, carbohydrates, starch, dairy and fibre. The formula is fortified with calcium gluconate to neutralize excess acid, while a complex of peppermint leaf, chamomile and fennel calm an upset stomach. Digestive enzymes help maintain optimal digestion and absorption by restoring natural enzyme levels. Nutrisentials also ease digestive complaints, including gas, heartburn and symptoms of irritable bowel syndrome.

Ingredients:

Papain (from Carica papaya fruit) for protein digestion 50 mg/900,000 Pu, Bromelain (from Ananas comosus fruit) for protein digestion 30 mg/7,200 mcu, Lipase (from Aspergillus niger) for fat digestion 30 mg/32 Lu, Amylase (from Aspergilus oryzae) for carbohydrate and starch digestion 50 mg/1,500 Du, Lactase (from Aspergillus niger) for dairy digestion 30 mg/30.75 Lac u, Cellulase (from Trichoderma longibrachiatum) for fibre digestion 15 mg/300 Cmc-ase.

Directions:

Adults, take 1 caplet three times daily with food. For occasional use only. Do not take for more than two weeks unless directed by a healthcare practitioner.