---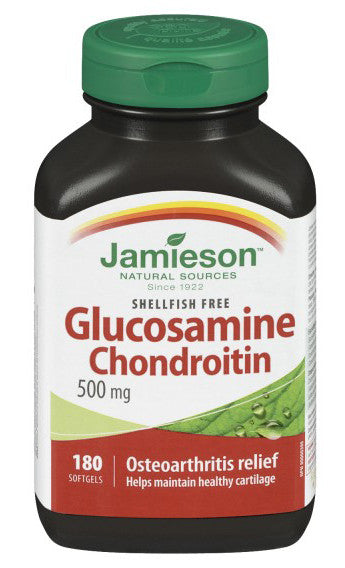 Jamieson Glucosamine Chondroitin 500 mg helps relieve the pain associated with osteoarthritis and is a factor in building of healthy cartilage. It also protects against the deterioration of healthy cartilage and is effective in reducing joint pain. Most glucosamine products on the market are made from chitin, a substance found in the shells of shellfish such as lobster, shrimp, and crab. This can be a concern for individuals with shellfish allergies. Jamieson makes glucosamine using North American-sourced corn. Each capsule contains 300 milligrams of glucosamine hydrochloride derived from Aspergillus Niger through a fermentation process. Ideal for anyone who wants to avoid shellfish.

Ingredients:

Glucosamine HCl 300 mg; Condroitin Sulfate 200 mg.

Directions:

Adults take two capsules, three times daily with food. Use for a minimum of four weeks to achieve benefit.