---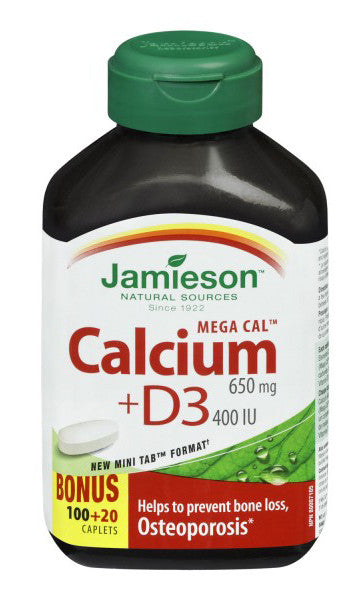 Jamieson Mega Cal Calcium 650 mg with Vitamin D is formulated with premium-grade, bioavailable Vitamin D3, the same natural form the body produces when skin is exposed to sunlight. Calcium and Vitamin D are a classic combination for anyone looking to support bone health and ensure optimal absorption. This formula offers 400 IU of premium Vitamin D in addition to 650 mg of elemental calcium- the highest potency available in a single source.

Ingredients:

Each Caplet Contains Elemental Calcium 650 Mg (Mega Cal High-Absorption Calcium Is A Complex Of Carbonate, Citrate, Malate, Fumarate, Succinate Sources) And Vitamin D3 (Cholecalciferol) 10 Mcg/400 IU.

Directions:

Adults take 1-2 caplets daily with food. Take a few hours before or after other medications.