---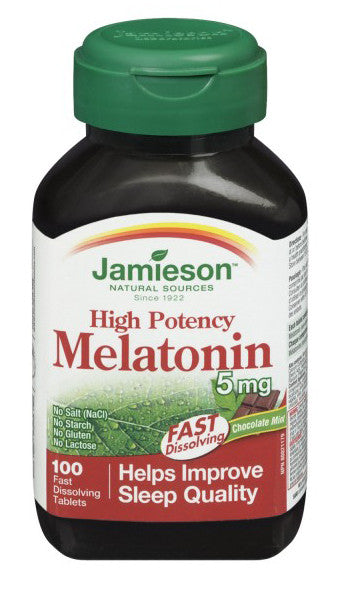 Melatonin, a natural substance secreted by the pineal gland, plays a critical role in our sleep-wake cycle. Melatonin production declines with age, and Jamieson High Potency Melatonin 5 mg can restore optimal sleep patterns and correct disturbances associated with jet lag. This delicious, natural chocolate-mint flavoured tablet is free of artificial colours, flavours or preservatives and ideal for anyone who doesn't like to chew or swallow tablets. It is made with pharmaceutical-grade melatonin, which is the exact chemical duplicate of natural melatonin.

Ingredients:

Melatonin 5mg.

Directions:

Adults, take one tablet daily, at bedtime. Consult a health care practitioner for use beyond four weeks.

Cautions:

Store at room temperature. Consult a health care practitioner before use if using any other medications. Do not use if you are pregnant/breastfeeding. Do not drive or operate machinery for five hours after taking melatonin.