---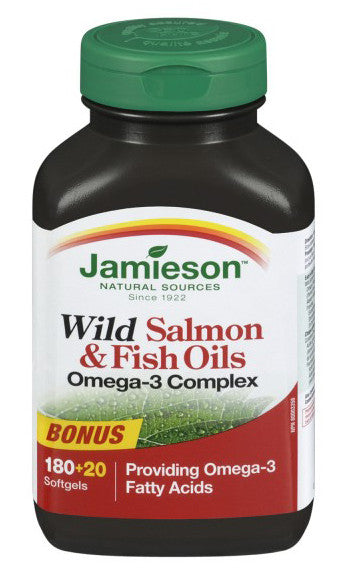 Jamieson Salmon Fish Oil Complex is formulated using EPA and DHA in their natural triglyceride form for optimal bioavailability. The EPA and DHA are extracted from salmon, sardines and anchovies and then purified using a gentle molecular-distillation process to remove all traces of mercury and other micro-contaminants. This pharmaceutical grade product is standardized to contain 18% (180 mg) of EPA and 12% (120 mg) of DHA in each capsule. Salmon oil helps support cardiovascular health and helps reduce high blood pressure. It relieves joint pain and swelling caused by rheumatoid arthritis. Salmon oil also helps maintain healthy brain and nerve cell function.

Ingredients:

Sardine, Anchovy and Wild Alaskan Salmon Fish Oils (1,000 Mg) in the natural, Bioactive Triglyceride (Tg) Form. Provides Epa (Eicosapentanoic Acid Tg) 180 Mg and Dha (Docosahexaenoic Acid Tg) 120 Mg of Omega-3 essential Fatty Acids.

Directios:

Adults take one to three capsules daily with food.

Cautions:

Do not exceed recommended dosage. Fish oil may cause belching, flatulence, nausea, bloating and diarrhea.