---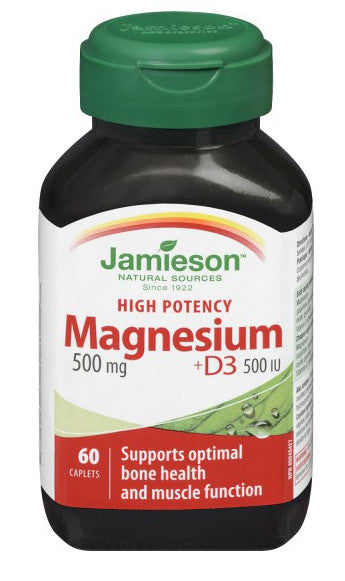 Jamieson Magnesium 500 mg + D3 offers a high potency of magnesium, with the added benefit of Vitamin D to support bone health and optimal muscle function. Magnesium is an essential mineral that is important to overall health. It helps maintain strong bones and supports proper muscle and nerve function. Magnesium is utilized by all organs in the body, especially the heart, muscles, and kidneys. It plays a role in tissue formation, blood glucose control, and cardiovascular health and supports the production of enzymes necessary for energy production.

Ingredients:
Magnesium (aspartate, glycerophosphate, malate, oxide, glycinate) 500 mg
Vitamin D (Cholecalciferol) 12.5 mcg/500 IU
Directions:

Adults take 1 caplet daily. Store between 15C and 25C, away from children.