---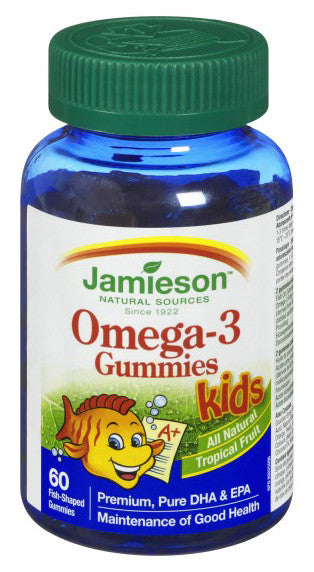 Jamieson Omega-3 Gummies for Kids are all-natural, fruit-flavoured gummies that contain an optimally balanced dose of the Omega-3 essential fatty acids EPA and DHA. While EPA helps regulate behaviour, mood and muscle activity, DHA is important for the healthy development of the brain, eyes and nervous system. Aspartame-free, and made without artificial colours or flavours, these fun, fish-shaped gummies - strawberry, banana, orange, peach and green apple - are a tasty way for your child to receive essential fatty acids for healthy growth.

Ingredients:

Each gummy contains Fish Oil (Sardine) 60 mg Omega-3 Fatty Acid 20 mg (derived from 60 mg of pure, molecularly distilled sardine oil) providing Eicosapentaenoic acid (EPA) 15 mg Docosahexaenoic acid (DHA) 5 mg.

Directions:

Children 2-8 yrs and adolescents 9-18 yrs chew up to 5 gummies daily with a meal. Store between 15C and 25C, away from children.