---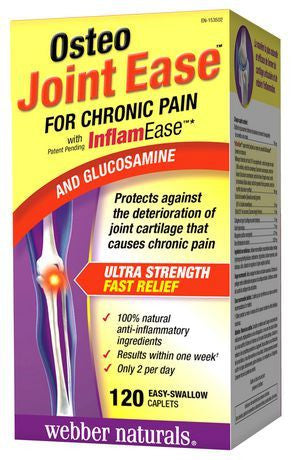 Osteo Joint Ease represents the next generation of natural joint care. This innovative formula contains patented InflamEase, a synergistic combination of antioxidant, anti-inflammatory and pain-relieving botanicals that relieve pain.
Recent studies on inflammation reinforce traditional use of fruit compounds to address pain and stiffness. Osteo Joint Ease with anti-inflammatory InflamEase fruit and nutrient complex, addresses the source of joint pain by addressing inflammation. It includes boswellia and turmeric.

Ingredients:
Glucosamine Sulfate (Potassium chloride from shrimp/crab exoskeleton) [750 mg]
Ultra Fruit blend (76% polyphenols): Grape Seed Extract (Vitis vinifera), Cranberry Extract (Vaccinium macrocarpon), Blueberry Extract (Vaccinium corymbosum), Strawberry Extract (Fragaria vesca), Raspberry Extract (Rubus idaeus), Pomegranate Extract (Punica granatum), Bilberry Extract (Vaccinium myrtillus) [100 mg]
Boswellia (Boswellia serrata) (gum) Extract (60% boswellic acids) [50 mg]
Turmeric (Curcuma longa) (rhizome) 25:1 Extract [15 mg]
Collagen Type II (hydrolyzed chicken cartilage) [7.5 mg]
Hyaluronic Acid [7.5 mg]
Manganese (Sulfate monohydrate) [0.75 mg]
Boron (Sodium tetraborate) [0.225 mg]
Dosage:

(Adults) 2 caplets dayily preferably with meals or as directed by a physician.