---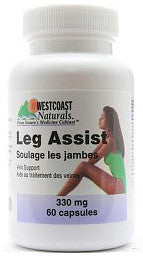 Horse Chestnut has been used to assist with varicose veins. Grape seed extract increases the efficiency and absorption of horse chestnut.

Use:

Take one (1) Westcoast Naturals Leg Assist Varicose Vein Formula capsule every twelve hours with a glass of water.

Ingredients:

Pure European Horse Chestnut 18% and Grape Seed Extract.

Warning:

If you have a kidney or liver problem or a history of stroke or heart disease, consult a physician before using this product. If gastric irritation, nausea or rapid heartbeat occur, discontinue use. Not for use by pregnant or nursing women.