---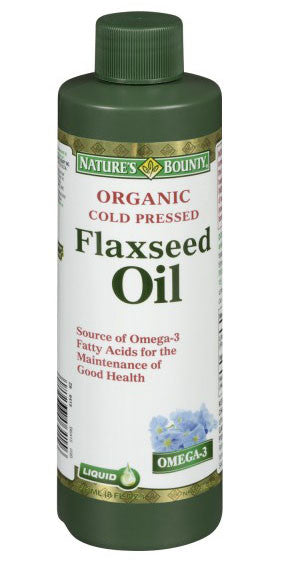 This nutritional supplement provides a natural source of Omega-3 and Omega-6 fatty acids which help promote health heart and energy in the body. This Flaxseed Oil liquid offers one of the most best plant sources of Omega-3s found in nature without being processed with any solvents. Flaxseed Oil helps contribute to overall good health by strengthening heart health and giving you more energy. Natural Bounty's Flaxseeds are pressed at extremely cold temperatures and packaged under specific conditions to ensure the best product possible.

Ingredients:

Flax Seed Oil (Linum usitatissimum L.) 4,660 mg

Directions (Adults):

Take one teaspoon twice daily, preferably with a meal.

Cautions:

Please consult doctor if you are pregnant/breastfeeding or taking other medications before using. Stop use if adverse reactions occur and consult your doctor. Store at room temperature.