---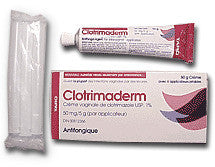 Clotrimazole acts primarily by damaging the permeability barrier in the cell membrane of fungi.
Clotrimazole brings about inhibition of ergosterol biosynthesis, an essential constituent of fungal cell membranes. If ergosterol synthesis is completely or partially inhibited, the cell is no longer able to construct an intact cell membrane. This leads to death of the fungus. Exposure of Candida albicans to clotrimazole causes leakage of intracellular phosphorus compounds into the ambient medium with a concomitant breakdown of cellular nucleic acids and potassium eflux. The onset of these events is rapid and extensive after exposure of the organism to the drug, and causes a time-dependent and concentration-dependent inhibition of fungal growth.
DOSAGE:
The recommended daily dose is ONE full applicator intravaginally for SIX consecutive days,preferably at bedtime.