---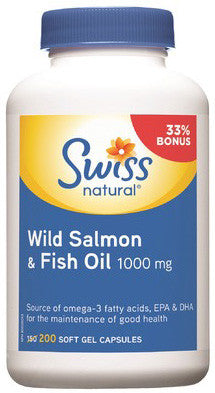 You've heard a lot of good things about Omega-3, but what is it exactly? Well, Omega-3 is an important amino fatty acid most popularly found in fish like salmon, and composed mainly of EPA and DHA. EPA supports the heart and circulatory system, and DHA helps improve concentration. Hooked yet, You'll also be happy to know that this Wild Salmon Oil Blend is not only great for your health, but it's sourced from wild fish, not farmed.

Ingredients:
Wild Fish Oil Blend (Sardine, Anchovy, Salmon) 1000 mg
EPA (Eicosapentaenoic Acid) 180 mg
DHA (Docosahexaenoic Acid) 120 mg
Directions:

Adults take 2 capsules twice daily with food or as directed by healthcare practitioner.