---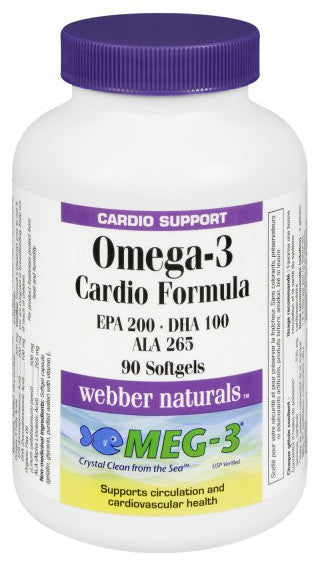 This potent blend of concentrated Omega-3 essential fatty acids may help improve cardiovascular health. Made with pharmaceutical grade MEG-3 fish oil and more, this optimal blend provides 200 mg EPA/100 DHA and 265 ALA per softgel capsule and is specifically designed to provide maximum support for cardiovascular health.

Ingredients:

Fish Oil Concentrate (Anchovy, Sardine) 535 mg From MEG-3 Brand Fish Oil Concentrate, Omega-3 Fatty Acids 320 mg (Eicosapentaenoic Acid 200 mg, Docosahexaenoic Acid 100 mg), Organic Flax Oil (Linum Usitatissimum Seed 500 mg) containing Alpha Linolenic Acid 265 mg.

Directions:

Take one to two softgels daily or as recommended by a health professional.