---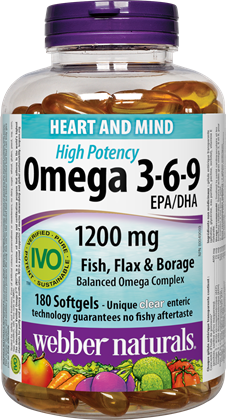 Omega 3-6-9 provides a full spectrum of essential fatty acids (EFAs) that play important roles in the development and functioning of the nervous system as well as cognitive and cardiovascular health. They are called "essential" because they are critical for health, but cannot be produced in sufficient quantities by the body and thus must be consumed through diet. The two main EFAs are omega-3 (including alpha-linolenic acid (ALA), eicosapentaenoic acid (EPA) and docosahexaenoic acid (DHA)), and omega-6 (including gamma-linolenic acid (GLA) and linoleic acid (LA)). Although the body can make omega-9 EFAs, they play an important role in cardiovascular health.
Healthy ratios of omega-3s to omega-6s range from 1:1 to 4:1; however, the typical North American diet provides ratios of up to 30:1. Supplementing with a combination of omega-rich fish and plant oils ensures your body receives the correct balance of fats needed to maintain optimal health.
High Potency Omega 3-6-9 uses a unique clear enteric softgel technology, which incorporates natural ingredients into the softgel casing, instead of coating them with potentially, unhealthy chemicals as is done with enteric-coated softgels. This prevents the softgel from breaking down in the stomach, ensuring optimal delivery and preventing a fishy aftertaste.